Braddon's Lonsdale Street closes for same-sex marriage street party
​Glittered faces kissed, danced and sang along to George Michael in Braddon on Wednesday night, celebrating a national vote in favour of marriage equality.
This was Canberra at its finest. Chief Minister Andrew Barr stormed the stage to cheers and chants of "ACT, ACT", celebrating a jurisdiction where three in four people voted "yes".
Canberra couple Emma Beer and Kirsten Farrell attended the Australian Marriage Equality street party with Xabi, 12, and Isla. It was a celebration of sorts after a campaign that was "quite confronting and depressing at times".
"I've got mixed feelings. It's mostly good now to be amongst this," Ms Beer said.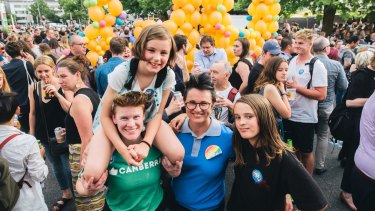 Xabi urged the government to legislate for same-sex marriage. "This is the biggest party I've ever been to. Gay rights," he said.
Ryan Gackle and Tony Wu, Canberrans who have been together 16 years, said the survey was an expensive political exercise. Mr Wu said he expected the "yes" vote to be higher but called on the government to act.
"Everyone was expecting what the result was going to be and still it's taking them a long time," he said.
Senators who supported a cross-party same-sex marriage bill took the stage at Hopscotch bar. Labor's Penny Wong drew thunderous applause from a crowd of thousands.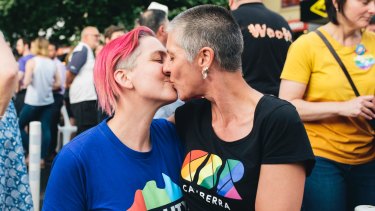 "I know this has been a tough campaign - I've seen the tears, the pain and the hurt that many people have felt," she said.
"I want to say to you: take heart from this result because it is a wonderful result.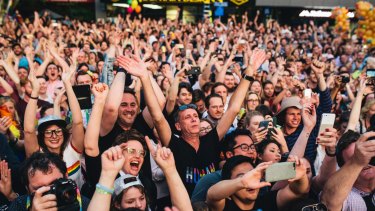 "The Australian people have spoken and it is time for Parliament to play its part," she said.
The party continued late into the night. A chalk rainbow marked the Civic end of Lonsdale Street and DJs played hits from Kylie Minogue and Cher.
Earlier in the day, ahead of the announcement, hundreds of Canberrans gathered in Haig Park.
Tears and bubbly flowed freely once the "yes" vote was announced. Jodie Vaile and partner Jen Simpson drank sparkling wine from cardboard cups with son Felix at the celebration.
"It's really hard to describe how it feels to have someone vote on the validity of your relationship and your family and that Australia came back so strongly in the yes is just a very wonderful feeling," Ms Vaile said.
Just Equal spokesman Ivan Hinton-Teoh said the mood was relief rather than revelry.
"The expression of this community, the hundreds of people that are here is not unfettered joy. It's relief. It's a release from fear and terror that they've lived every day for the last two months.This is a release from the national judgement they've been subjected to so while we should celebrate today we should not celebrate the process," he said.
Emily Baker is a reporter for the Sunday Canberra Times. She previously reported on education for The Canberra Times.
Katie Burgess is a reporter for the Canberra Times, covering ACT politics.