Canberra Airport's workforce predicted to take off
Canberra Airport's workforce will grow from 11,000 to 18,000 jobs over the next five years as it continues developing as an ''aerotropolis''.
The airport says businesses recognise major airports as economic drivers and demand a presence on or near them.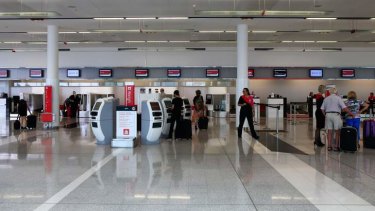 Major airports known as aerotropolises are emerging worldwide, according to the airport's latest draft master plan for the next 20 years of development.
''Cities with emerging aerotropolises, similar to Canberra, are now being acknowledged to be the most competitive cities of the 21st century,'' the master plan says.
Airport managing director Stephen Byron said major retailers, including Costco, had been secured at the airport to serve the city's catchment of 900,000 people and international carriers would come, attracted by that demographic and high incomes.
Mr Byron said the airport had been talking to Swedish retail company IKEA in parallel with Costco but did not want to overplay the airport's role, because the ACT government had been making the deal.
If secured, IKEA will be established on 7.8 hectares of land the ACT government has rezoned for bulky goods retailing opposite Majura Park.
According to the master plan, IKEA will build on the Costco legacy by diverting retail trade away from Sydney or Melbourne to Canberra.
The government will leverage off the planning, investment and risk undertaken by the airport in developing Majura Park.
Mr Byron said regardless of whose land it is on, jobs and access to IKEA products would benefit Canberra. The move also reinforced Canberra as the regional centre of 900,000 people.
''We did bash on pretty hard about that and I think we convinced them to look at our region and we did convince them, the demographics, the income and jobs in the Canberra workforce, you didn't necessarily need to get the 900,000,'' he said.
The region's population and Canberra's high incomes were also at the core of talks with international carriers Qantas, Virgin, Air New Zealand, Emirates, Singapore Airlines, Air New Zealand and Etihad Airways.
Mr Byron said Canberra was a bigger market than some people realised.
Adelaide had 38 to 40 services a week to Asia, with international carriers serving a catchment of 1.3 million in Adelaide and 1.6 million for all of South Australia.
Conservatively, Canberra was equivalent to at least 50 per cent of the Adelaide market.
''The reality is, when we crack our first international flight to Asia in an A330 or 777, soon enough we'll have five [flights] a week, to seven a week, to 12 a week with another airline to another city,'' Mr Byron said.
''Everyone will say 'why didn't we get into this one earlier?' But it's just getting that first one and making sure it works.''
Job forecasts in the master plan are based on aviation growth and the full occupancy of all existing buildings on the airport precinct.
Mr Byron said federal government budget constraints had caused a bigger vacancy rate at the airport.
But as tight as things were in Canberra, the business park still underpinned aviation activity on the strength of its long-term leases.
John Thistleton is a reporter for The Canberra Times.