Canberra schoolgirl writes to Prime Minister Tony Abbott to complain about Cory Bernardi's use of commodity
Hannah Webb is not asking for much from Prime Minster Tony Abbott - just an assurance that he does not think of her, or any other Australian child conceived through IVF, as a commodity.
The 16-year-old from Canberra says she was ''hurt and upset'' this week by comments made about non-traditional families by government backbencher Cory Bernardi in his new book, referring to children conceived through in-vitro fertilisation as ''commodities''.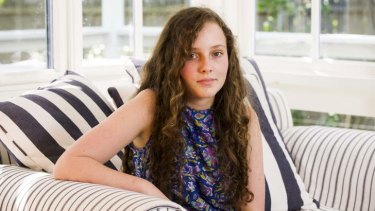 While many took to social media sites to vent their anger against the controversial Liberal senator, Hannah took the old-fashioned approach, dashing off a letter to the Prime Minister seeking reassurance that his government did not share Senator Bernardi's views.
The year 11 student said she had never written to a politician before but wanted to express the hurt and bewilderment she felt after reading of comments made in Senator Bernardi's new book, The Conservative Revolution.
"I couldn't believe we had an elected member of Parliament who would hold those views," Hannah said. "Being a baby who was wanted and whose parents spent five-odd years trying to have me through IVF, I felt very sad that someone would refer to how I was born as being a commodity. That's a word that refers to being bought as well as being sold."
Hannah wanted to send her letter to the Prime Minster right away, but her parents urged patience.
"I did it that night I said I'm going to write to Tony Abbot," she said.
"I wrote it but my mum has an old saying, 'always sleep on anything.' And then the next morning I showed it to my parents and they said I should definitely send it, so I put it in the post that day."
After a storm of criticism greeted the reporting of the senator's writings, Mr Abbott said the views of a single backbencher did not reflect government thinking or policy.
Not good enough, says Hannah, who starts year 11 at Canberra Girls Grammar this year.
"Just because his opinions aren't the party opinions, it doesn't mean that he doesn't hold sway inside the party. It doesn't mean that his opinions aren't being heard by his colleagues and taken into consideration," Hannah said.
"I think Mr Abbott should apologise for some of the things that Cory Bernardi said. Some of the things he said are quite upsetting and hurtful to non-traditional forms of families."
But the Ainslie teenager is not getting her hopes up too high for much of a response from the Prime Minister's office.
"I don't have great hopes,'' she said. ''I'm not under any illusions that Tony Abbott might respond to me, but the best thing would be is that if he would publicly comment and say that what Mr Bernardi said was not appropriate."
Noel Towell is State Political Editor for The Age