Canberra's Damian Power enjoys life more with his Bernese mountain dog Stirling
Damian Power collapses to the floor in a blackout on average four times each day.
Each time, he requires someone to be there to wake him up. The condition was as a result of a cricketing accident, and it's something he's lived with for more than 20 years.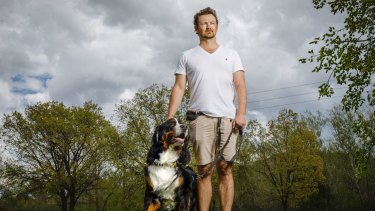 But the future is looking a little brighter with Stirling by his side.
Stirling, a Bernese mountain dog, isn't your average pet. He's being trained to be a Mind Dog, a specialist in psychiatric assistance. Similar to guide dogs for people with vision impairments, mind dogs are service dogs. They are covered by the Disability Discrimination Act, and assist people with mental illness to access places they otherwise couldn't go alone.
Stirling's 50-kilogram furry frame is a comfort to Mr Power when he's feeling particularly anxious.
"If I'm feeling a bit down, he will come over and sit with me and put his head on me. It calms me down, makes me feel a bit better.
"He gives me that confidence to get out and do a little more."
Mr Power has been married to his wife Annette for five years, but sometimes, he said, it's hard for family and friends to understand him as well as Stirling does.
"If you have a pet or had a pet, that little bit of compassion, unfiltered love they give you, it's quite a substantial thing," he said.
Mr Power said since getting Stirling two years ago as a puppy, he gets out of the house more not just to walk the dog, but because he's confident in his companion's ability to watch over him.
Stirling doesn't yet have the capacity to roll Mr Power over and wake him up after a blackout, but with further training that could be an outcome of the relationship.
For the moment, he's primarily an anxiety assistance dog.
The Mind Dogs volunteer organisation assists with training the dogs, all of which have to pass basic obedience tests and be on their best behaviour when "working", particularly when out of the house.
Mind dogs wear a bright yellow vest to let people know they're not to be patted or distracted. But they can be admired, and Mr Power said Stirling has plenty of admirers. He's even got an Instagram page.
At his local shops in Mawson, Stirling is well-known by the shopkeepers. Mr Power said having such a big dog was usually a good thing, as it started conversations which can help break down the stigma of mental illness.
Kimberley Le Lievre is the Editor of The Sunday Canberra Times