Three people have been arrested and police are hunting for a fourth who allegedly assaulted an officer after a car rolled over at a Belconnen fast food restaurant.
"The persons of interest were wanted for questioning in relation to a number of motor vehicle thefts. Police are looking for a fourth person who escaped after assaulting a police officer. We will provide further details when we're able," a police spokerson said.
In supplied pictures, it appears a ute has rolled over and fallen down a small embankment, knocking over the fence and a sign.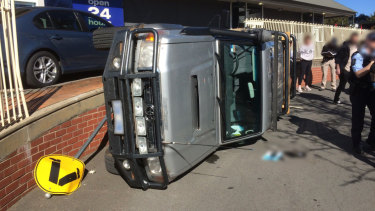 The incident happened at the Belconnen's franchise of the fast food chain at about 3pm. The store manager declined to comment.
Witnesses say a woman was handcuffed at the scene by an undercover policeman.
Han Nguyen reports on property for The Canberra Times. She joined the Times in 2017 after working as a breaking news reporter at The Sydney Morning Herald.