CEA's Defence support deal
The Canberra firm CEA Technologies has signed a multimillion-dollar, three-year contract with the Department of Defence to support its use of a new phased array radar system.
The system, which is being installed on the navy's eight Anzac-class frigates, was designed and manufactured by CEA Technologies, with most of the work done at the company's Fyshwick base.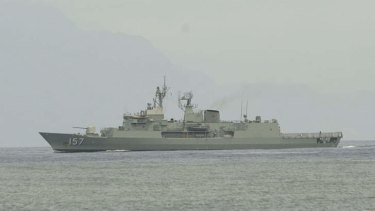 The contract announced on Wednesday will initially cover HMAS Perth, which has already been upgraded with the CEA system.
The sales and marketing manager of CEA, Mark Foster, said the firm would be providing a help line to the department by working in support of the systems from its Fyshwick factory and working on the systems on-site.
The radar system, a key element of the Anzac anti-ship missile defence system upgrade, allows the vessels to identify, track and guide missiles to multiple targets simultaneously.
The current system can track only a single target.
Mr Foster said the phased array radar system would enhance the defence capabilities of the ships.
''These radars have very effective capabilities to scan and track, and detect targets in difficult environments,'' he said.
The federal government has approved the upgrade of the other seven Anzac frigates by 2017, at a total cost of more than $650 million.
Mr Foster said he could not disclose how much the support contract was worth, but confirmed it was a multimillion-dollar amount.
The Anzac frigates entered service in the mid-1990s, equipped with only basic weapons systems. with AAP