Canberra's only crematorium is now under investigation by the Transport Canberra and City Services Directorate, following a case of missing ashes of a baby who died in 1978.
The directorate confirmed on Tuesday that, following revelations that the case was not isolated, and that other families had concerns about ashes missing from the privately run Norwood Park Crematorium, the scope of the investigation has widened to include the ACT Cemeteries Authority.
The case first came to the directorate's attention when Member for Ginninderra Tara Cheyne raised it during an Annual Reports hearing in November.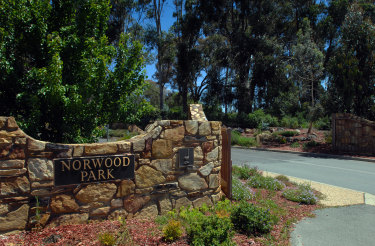 The case involved one of her constituents, Eddy Mol, whose son Timothy died as an infant in 1978.
Mr Mol and his wife had Timothy's ashes interred in a niche in a memorial wall, but the ashes were later moved, with the family's knowledge, to a new wall in what is now known as the Children's Court.
When Mr Mol attempted to retrieve his son's ashes in 2016 so that he could scatter them with those of his late wife, he was told, after several months, that the ashes were missing.
Although he was told by Norwood Park's management that nothing could be done, additional questions from Ms Cheyne and from the media prompted the crematorium to widen the search.
Since then, at least two more families have approached Ms Cheyne with concerns about ashes missing from Norwood Park.
One set was located during the widened search for Timothy Mol's remains, but another family, of Claire Falvey, stillborn in 1978, is still waiting for answers.
Minister for City Services Chris Steel confirmed to Ms Cheyne this week the directorate, which regulates cemeteries and crematoriums in the ACT and how they operate, had commenced an investigation into Norwood Park.
A spokesman for the directorate said it had decided to widen the scope of the investigation after "an additional four constituents" had approached Ms Cheyne about lost ashes.
"The directorate has also asked the ACT Cemeteries Authority, who manage interments at our public cemeteries, to make sure that all ashes can be accounted for there as well," he said.
"The Cemeteries and Crematoria Act 2003 is under review to ensure the management of cemeteries and crematoria in the ACT is contemporary, sustainable, flexible and meets the needs of all Canberrans."
He said the outcomes of the current investigation would be considered in the review of the Cemeteries and Crematoria Act 2003 by the ACT government later this year.
The government has already acknowledged the need for a second crematorium in the ACT, as part of the 2017 inquiry into the management of Canberra's cemeteries.
"The government is currently exploring the Southern Memorial Park proposal, which could include a cemetery and crematorium, and a market sounding has been undertaken to gauge market interest in and capacity for operating cemeteries and crematoria in the ACT," he said.
Sally Pryor is a reporter at The Canberra Times.