Enlighten 2016 gets the jump on Floriade with seven-metre-tall white rabbits
Not since Br'er Rabbit turned the tables on Br'er Fox has a bunny been so bold as to upstage Canberra's premier tourist attraction, Floriade.
Launching Enlighten 2016, Chief Minister Andrew Barr said the festival, which would be invaded by seven-metre-tall white inflatable rabbits, was about to overshadow the spring flower festival.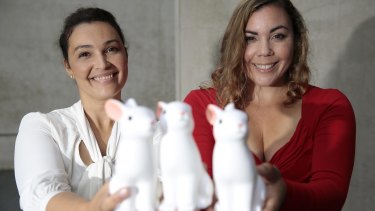 "I think it is well on its way to surpassing Floriade as the flagship festival for our city," Mr Barr said.
Enlighten creative director Nicole Warren said rabbits were a sure-fire recipe for bringing childhood wonder to this year's festival, which would be held from March 4 to 12 in the Parliamentary Triangle.
"Bunnies, for me, are very symbolic of childhood; are much loved characters that filled our imaginations like Peter Rabbit, Br'er Rabbit and the White Rabbit from Alice in Wonderland," Ms Warren said.
"They are powerful and emotive; they feature in works with very strong messages."
Artist Amanda Parer's Intrude will feature the illuminated, stark white rabbits at various locations, invoking cuteness and visual humour.
Mr Barr said Enlighten continued to exceed expectations.
While international direct flights to Canberra would begin after Enlighten, the festival was an opportunity to lay the ground work to broaden and deepen cultural, social and tourism benefits, and to delve into what autumn could offer in the territory.
Mr Barr said the best tourism events had Canberrans as their most passionate advocates.
"The only thing that will stop [Enlighten] is the limit of our imagination, our preparedness to be bold, our preparedness to be creative and our preparedness to embrace new ideas," he said.
Introducing Asian foods from dumplings to dosa for night noodle markets last year doubled the crowd, and they would return this year.
Brilliant architectural projections will again light up Parliament House, Old Parliament House, the National Library of Australia, the National Portrait Gallery and the National Gallery of Australia.
"We are really lucky to have the talented Electric Canvas back on board for 2016; they have been working with six selected artists," Ms Warren said.
In her second year as director, Ms Warren begins with a creative brief that gives direction to a vision. She then finds interesting links of complementary attractions.
"It is a huge collaborative project. It involves working alongside of key organisations and individuals; everyone from [the] operations team to the artists, the projection specialists, the national cultural institution to sponsors," she said.
Another large inflatable sculpture, Unuscornu, will be in the High Court of Australia, standing eight metres tall.
John Thistleton is a reporter for The Canberra Times.