Family memories of Lady Denman
Mark Burrell remembers his famous grandmother, Lady Denman, the woman who spoke this city's name on the great occasion of March 12, 1913, speaking with a refined and polished ''Queen's English accent''.
On Monday at Parliament House he reminisced about her in exactly those Queen's English tones. His is exactly the voice you'd expect of a man from an ancient (15th-century) West Sussex family, a chap educated at Eton and Cambridge and then going on to hold the office of High Sheriff of West Sussex.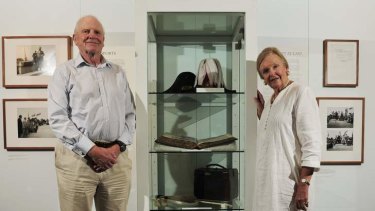 Visiting Canberra, he is of enormous interest to Canberrans while we are in such a history-conscious state because he is the grandson of the vice-regal couple in those famous photographs of the 1913 naming of Canberra ceremonies.
The slight man in the cocked hat (with plumes) is his grandfather, Thomas Lord Denman, and the woman in the grand hat is, as just mentioned, Lady Denman, who on the day ended the nation's suspense by taking the chosen name out of the gold case and telling the nation and the world, in a Queen's English accent, what the capital of a continent was going to be called. The couple lived and served in this dominion from July 1911 until May 1914.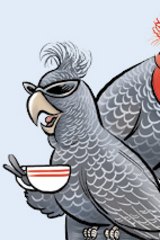 On Monday Burrell and his wife Margot (she is an Australian and they married 46 years ago and live in England but have a son in Melbourne) were in Canberra to visit the But Once in a History exhibition all about the 1913 occasion. Crossing our fingers in hope of a ''yes'', we asked if Burrell had known and was able to remember his illustrious grandparents.
''Yes of course, I was born in 1937 and knew them both. [They both died in 1954.] I knew her well and I remember staying with her when I was about eight years old, in her house Balcombe Place in Sussex at just about the end of the Hitler war. I went to a school nearby so I did get to know her pretty well. She was a lovely person and looked after me really well.
''And I have two little golf stories about her. The family history has it that she was very keen on golf and when she was wife of the governor-general and living at Government House in Melbourne she dug a bunker in the grounds (and I think we have somewhere a photograph of her digging it) so she could practise. But that would be absolutely typical of her because she loved doing that kind of thing.''
Yes, as her biographer reports and as Australian society columnists of the day noticed, Lady Denman was an energetic, progressive, liberal, feminist, unorthodox soul. For example, while serving in Australia she often drove her own car at a time when women didn't do that and when especially women of her class insisted on being driven by servants. And after her refreshingly unstuffy stint in these colonies she went home to England to do energetic war work and then to take on various humane and liberal causes.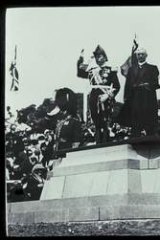 ''The other golfing story,'' Burrell continued, ''which sort of shows her character is that she put in a little pitch and putt course in her garden at Sussex. And she laid it out so that the ninth hole was right up against the plate glass windows of the dining room so that her guests were never brave enough to hit the ball properly and she always won!''
''My other connection with her is I'm now chairman of the offshoot of the birth control charity that she started. Hers was the Family Planning Association but then that got big and went public.
''She was very modern. She was a terrific organiser. I think she even wrote a little book called How to Chair Meetings because she did chair all sorts of different things and was good at it. She was very sporting too. She loved her golf. I remember now I played golf with her up at her house up at Thorpeness.''
He remembers his grandfather Lord Denman too. After Lord and Lady Denman separated they continued to live not far from one another (Lady Denman at manorial Balcombe Place and Lord Denman in the posh Brighton suburb of Hove) and did see one another socially.
''And my grandfather was a very keen ice skater [Burrell recalls that his grandfather seems to have had an affair with Sonja Henie, 1912-1969, the Norwegian World and Olympic figure-skating champion] and I used to go skating with him when I was little and he was big. So, yes, I did know him but I knew my granny Lady Denman much better.''
He remembers with great fondness how ''even when she was quite old she loved bonfires''. Balcombe Place had huge gardens and so there was lots of scope for these conflagrations.
''She loved bonfires so much that I remember that in one edition of Who's Who she gave 'bonfires' as one of her hobbies.''
Most items of the grand, gold-and-silver-braided costume that Lord Denman wore on March 12, 1913, are on display at Parliament House and Burrell has not only seen them before but even, as a boy, remembers dressing up in them. What boy would have been able to resist! He remembers them being, irresistibly, ''up in an attic, and in a tin trunk … I especially remember the sword''.
You won't be able to try on the costume or wave the sword but you can look at them until April 3 in the Presiding Officers Exhibition Area at Parliament House.