Gearing up for a whale of a time with centenary balloon
Canberra's centenary hot-air balloon, the Skywhale, proved provocative when it was unveiled on Thursday.
Designed by renowned sculptor and former Canberran Patricia Piccinini, the $170,000 balloon is part of the capital's centenary celebrations and measures more than 34 metres from nose to tail.
Piccinini, who grew up in Canberra and now lives in Melbourne, said it was challenging and exhilarating to create a piece of art that would be seen in such a public forum.
She said in designing the balloon she was inspired by Canberra's plan, which though man-made, sought to imitate a natural environment.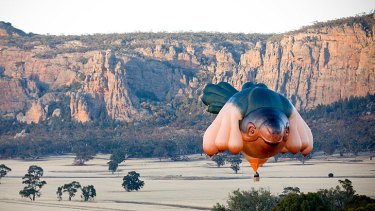 ''That's what I wanted to do with the balloon, something that was obviously artificial, but seemingly natural, that's why I ended up with this beautiful sky whale,'' she said.
Locals might spot a huge, other-worldly creature floating above Lake Burley Griffin on Monday morning, and for those wanting a closer look, it will be tethered at the National Gallery on Saturday.
Ms Piccinini said she thought the Skywhale was awe-inspiring, nurturing and challenging, but she was interested in how other people responded to the work.
Opposition Leader Jeremy Hanson slammed the balloon's design.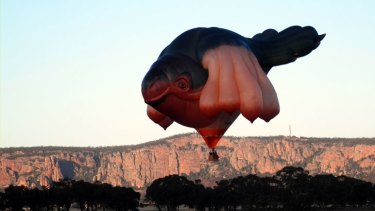 He said he did not like it, was concerned by the cost, and could see no link between the Skywhale and Canberra.
''I really don't know whether to laugh or cry … it's an embarrassing indulgence only a fourth term government would contemplate,'' he said.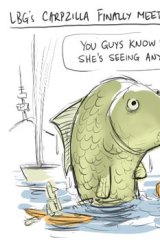 But not everyone was disappointed with the Skywhale, with some fans taking to Twitter to defend the balloon.
''I, for one, love the #skywhale,''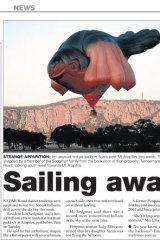 Aram tweeted. ''How adorable is #skywhale! What a sweetheart #canberra100,'' Bernadette Brennan tweeted.
The Canberra Times art critic Kerry-Anne Cousins said she was glad the centenary organisers had not gone for a safer option. ''I think it's a mark of the sophistication of Canberra that we can have this kind of debate,'' she said.
Jeremy Lasek, executive director of culture for the Chief Minister's directorate, said the balloon design, construction and testing was about $170,000, but other educational materials and piloting would cost extra. The Skywhale is nearly 23 metres tall and took 1880 hours of work to make. It even has its own Twitter account.
By Thursday afternoon it had sent out nearly 40 tweets.
It used more than 3500 metres of fabric and weighs 500 kilograms with fuel, a pilot and two passengers on board.