Gerard Vaughan retires from the National Gallery of Australia
Gerard Vaughan, director of the National Gallery of Australia, announced his retirement on Thursday and will leave the NGA in October 2018.
Dr Vaughan was first appointed to the role in 2014, replacing Ron Radford who had served from 2004.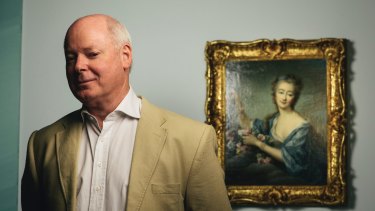 Just months after his appointment Dr Vaughan launched an independent review of the gallery's scandal-hit Asian art collection. The scandal surrounded the NGA's purchase of an Indian artefact, the Dancing Shiva, and allegations it was looted from a temple and sold to the gallery with false papers. In 2016 the review found that 22 pieces of art in the collection had "insufficient or questionable" documentation.
In 2016 the NGA cut several positions and shut down NGA Contemporary, an exhibition space beside Lake Burley Griffin, and Dr Vaughan spoke of the "challenges" faced by funding restraints.
Thursday's announcement from the NGA said during his tenure Dr Vaughan had "renewed public access to the gallery's collection and given prominence to the Australian Collections". He has "also delivered a continued program of major international exhibitions and partnerships, made important acquisitions for the national collection, and overseen a robust program of provenance research".
He had also "initiated new philanthropic avenues to cultivate private and public support for the NGA".
An international search for a new director will commence soon. That process will be managed by global executive search firm, Korn Ferry.
Karen Hardy is a reporter at The Canberra Times.