Get your skates on to catch the rock 'n' roll bus
More than just a bit of push and shove, the Canberra Roller Derby League is starting to find it has real clout in sporting and sponsorship arenas of the national capital.
If sold-out crowds raising the roof aren't one thing, a hard-to-miss mural splashed across an ACTION bus is another.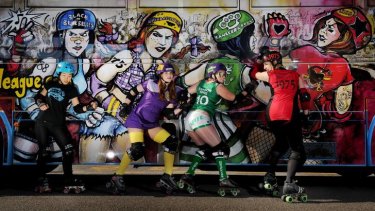 The mural will remain on the side of bus No 966 for a year, celebrating the edgy sport with its cartoonish characters, witty stage names (from Maggie Swoop to Bohemeth Rhapsody to The Dutchass) and girl-power message that sees makeup and up-dos mix happily with a bit of biff. All within the confines of the sport, of course.
The mural was paid for by four of the league's sponsors, all local companies which have seen the league rapidly rise within three years to become a major drawcard, able to squeeze a sell-out crowd of about 1000 into the Southern Cross Stadium at Tuggeranong or a respectable 3000 into the AIS Arena.
Queanbeyan company Allsports Mouthguards, Civic institution Impact Comics, Fyshwick beer outfit 1842 and Scope Mount Stromlo cafe bankrolled the bus artwork by local muso Ed Radclyffe who also used to commentate at the league's early games and does all their posters.
Mick Strickland, from 1842 beer, said it was a no-brainer to be involved with the league which staged its first bout in 2009.
''Pound for pound they're tougher than any rugby league or rugby union player I've ever met and they're incredibly loyal to their fans and sponsors,'' he said.
''For a bunch of amateurs, they're getting bigger crowds than the Canberra Capitals. I just think it's amazing what they've done.''
Impact Comics owner Mal Briggs said the ''punk rock'' feel of roller derby made it a good fit with his business.
''What we like about being associated with it is it's slap-bang in the middle of our demographic,'' he said. ''That has always been hard to define but when I walked into a roller derby game, I thought, 'Yes, this is our demographic'. You've got the sell-out shows and everyone screaming and yelling and generally having a good time.''
Scope Mount Stromlo owner Simone Hunter said the cafe gave close to $1000 for the bus artwork.
''It's such an amazing bunch of women basically resurrecting an old-school sport,'' she said.
There are now four teams in the league - the Brindabelters, Black 'n' Blue Belles, Red-Bellied Black Hearts and Surly Griffins.
Graduate architect Christine Murray, aka ShortStop from the Black 'n' Blue Belles, has also represented Australia in the sport. She says it's a good way to vent aggression.
The 966 bus will be seen on different routes around Canberra. One of the league's players, Trixie Dynamite (aka Petrina Hartley) is also an ACTION bus driver. But it was left to mild-mannered Tony Bennett (no stage name, that's his name) to drive the decorated bus for the first time yesterday - and score a hug from the girls. He made sure to take a photo on his own phone because ''my wife isn't going to believe this''.
The next bout in the Canberra Roller Derby League is on August 11 at the Southern Cross Stadium in Tuggeranong between the Red-Bellied Black Hearts and the Black 'n' Blue Belles.