GoGet and Popcar target public service with car-sharing in Canberra
The public service and small businesses will be the prime targets of the two Sydney-based car-sharing firms expanding into Canberra this week.
GoGet and Popcar will share 22 parking spaces in the city, Dickson, Russell and the Parliamentary Triangle as part of a two-year trial Labor agreed to when it struck a power-sharing deal with the Greens after the 2012 election.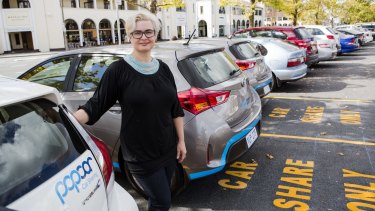 Drivers who wish to book and use the cars pay an hourly and per kilometre rate and unlock the vehicles with a swipe card received when they become members of one of the companies.
The rollout began on Monday with eight spaces set aside in the London Circuit car park near the ACT Magistrates Court, six near Constitution Avenue, four on Challis Street at Dickson, two at the Russell offices and two behind the Treasury building in the Parliamentary Triangle.
Previously GoGet, the more established of the two firms, said it aimed to have its cars within 250 metres of where people lived, but locations and transport planner Joshua Brydges denied the CBD and Parliamentary Triangle locations of the initial rollout would reduce patronage.
"A lot of the utilisation we see is organisations, small business, even government departments… and obviously there's plenty around where we are," he said.
"There's also a lot of residential going up [near the London Circuit car parks]."
Popcar general manager Anthony Welsh said residential areas and busy city hubs both had potential for car sharing.
"The opportunity for car sharing in Canberra extends beyond perhaps what we're starting with, hopefully we'll see it expand really quickly," he said.
"With all the development cropping up around the city there's plenty of opportunities for other locations."
Popcar, established in Sydney earlier this year, will begin with 10 cars in Canberra with an emphasis on hybrid vehicles, while GoGet will start with a fleet of five cars expanding to 10 within two months.
ACT Transport Minister Meegan Fitzharris said the five initial locations had been chosen because of high volumes of people frequenting the areas during the day and increasing numbers of residents in Dickson and the city.
"There's options around car sharing and getting your furniture home from a shopping trip or moving house… older people may look to use car sharing at different times of the day and in a different way to commuters who may want to move between the city and the Parliamentary Triangle," she said.
GoGet user Peta Swarbrick, one of 240 Canberra members of the car-sharing firm which already offers two vans at IKEA, welcomed the expansion.
But she hoped car-sharing spaces would be added to outlying town centres beginning with Woden, university campuses and inner-city suburbs like Braddon capitalising on demand from apartment-dwellers and middle-aged drivers downsizing into townhouses.
She uses the cars when she visits family in Melbourne who live out of reach of public transport and said she found it more convenient and cheaper than wrestling with the "rigmarole" of hire cars.
Ms Fitzharris said car sharing was part of "innovation and sustainability" as the city grew and could encourage households to "relinquish" their second car.
Ms Swarbick said she and her husband both owned cars, but she would consider giving one up now car sharing was available in the ACT.
She believed the trial would encourage greater public transport use, supplement Canberra's "terrible" weekend transport and change the culture around car usage and ownership for teenagers.
Ms Fitzharris said she expected high demand and said the government would consider increasing the number of spaces and opening up the market to other firms at the end of the trial.
For the first six months Popcar is waiving joining fees for Canberra residents for all levels of usage and offering hybrid cars at the base car rate while GoGet is waiving the monthly fees for all current and new ACT members.
Both services charge drivers 40 cents per kilometre with hourly usage rates varying depending on the frequency of trips and the type of vehicle.
Clare Colley is Head of Audience Engagement at The Australian Financial Review. She was previously an online editor, arts editor and journalist at The Canberra Times.