History against Hunter as Greens limp away
The ACT Greens slipped into deeper electoral trouble last night with updated vote counting showing for the second night running that their leader Meredith Hunter is heading for defeat.
And history is against Ms Hunter in her Ginninderra electorate, where no independent or minor party MLA has ever lasted more than one term.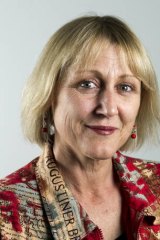 Last night's updated interim preference figures show the Greens heading for a near wipeout, losing three of the four seats they won in their historic 2008 showing.
Last night's update has Labor challenger Yvette Berry in front of Ms Hunter for the fifth seat in the northern electorate in a result that would see the new assembly made up of eight Labor MLAs, eight Liberals and the Greens still hanging on to balance-of-power with one member in the chamber.
In Molonglo, senior Labor frontbencher Simon Corbell was ahead, for the second night running, of fellow ALP challenger Meegan Fitzharris but the Liberals' education spokesman Steve Doszpot has fallen behind his party colleague, newcomer Elizabeth Lee.
Greens MLA Shane Rattenbury remains ahead of his colleague Caroline Le Couteur for the seventh Molonglo seat, and in Brindabella the Liberals' Andrew Wall still leads Green Amanda Bresnan for the fifth seat in the southern electorate.
Labor also nudged back into a narrow lead over the Canberra Liberals in the popular vote yesterday by just 55 votes across the territory, with 85,532 votes to the Liberals' 85,477.
Both Labor leader Katy Gallagher and her Liberals opponent Zed Seselja have claimed success in the popular vote as they have sought since Saturday's election to bolster their chances of forming government.
Vote counting will resume this morning and is not expected to be finished before tomorrow night, and it could even be Sunday before Ms Hunter and the other candidates in tight races know their fates.
But Ms Hunter's task in holding her seat is made more complex by the electoral history of the Ginninderra electorate.
Since its creation before the 1995 election, no independent or minor party MLA has managed to hold a seat in the Belconnen-based electorate for more than one term.
The first election, in 1995, established a pattern with the ALP and the Liberals each winning two seats and the final seat going to the Greens' Lucy Horodny.
Ms Horodny did not contest the 1998 election and independent Dave Rugendyke was elected in Ginninderra on a social conservative ticket.
In 2001 Mr Rugendyke was replaced by Australian Democrat Roslyn Dundas, who in turn was beaten in 2004 when Labor managed to get three MLAs elected in Ginninderra.
But in 2008, the ALP failed to retain their third spot and the final seat went to Ms Hunter, who now looks in grave danger of becoming another one-term MLA.
But Ms Dundas, now director of the ACT Council of Social Service, says she believes it is simply changing times that lie behind the inability of smaller players to last in Ginninderra.
''My election in 2001 was at a time when there was a real feel for a need to change and a focus on supporting women to get elected and a focus on big social issues that hadn't been treated in step with what the community was feeling,'' Ms Dundas said.
''But then in 2004, Jon Stanhope as chief minister did what party leaders do in seats, gathering more than 30 per cent of the votes, which made it hard for prefer-ences to flow to small parties.
''Then in 2008, we saw a reaction to [Labor] majority government which was then a swing back to the non-old parties … That's the great thing about democracy, new ideas will come forward and people will respond to those new ideas.''
Ms Dundas says she believes the Greens now find themselves in such deep trouble because they failed to promote themselves as a party that had been in the Legislative Assembly for 17 years.
''There's been a Green in the ACT Parliament since 1995 … but the campaign they ran this year was much more short-term than that,'' she said.