Indigenous genealogy report branded racist
A Government-sponsored genealogy project could cast new light on Canberra's indigenous heritage.
But the ACT Government has made it clear it will not change its long-standing policy of recognising the Ngunnawal people as original custodians of the land, and one indigenous activist has branded the ACT Government's Aboriginal genealogy project racist, saying it will further divide groups of Aboriginal people in the area.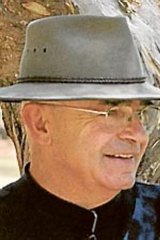 Ngambri man Shane Mortimer said he and many of his people had refused to take part in the project, as their heritage in Canberra could already be clearly traced back to a time before the city was founded.
''I don't have to prove who I am, I know who I am,'' he said.
There is a long-running dispute between the Ngunnawal, Ngambri and Ngarigu people as to who should be recognised as the original inhabitants and custodians of the land where Canberra sits.
Ngarigu woman Ellen Mundy has taken the ACT Government to court seeking recognition for her people's connection to the land.
But Indigenous Affairs Minister Chris Bourke told an Assembly committee late last year the ACT Government would continue to recognise Ngunnawal people as the original custodians of the land regardless of what was discovered through the $100,000 project.
A spokesman for Mr Bourke said more than 15 family groups had taken part in the first stages of the project, which involved the identification and collation of the histories of families claiming traditional custodian status, and since then more indigenous people had asked to be included.
Research group Ardeth Pemberton Family History has delivered a draft genealogy report to the ACT Government, and the next stage will involve each of the identified family groups being assessed for connection to country.
The spokesman said the Government hoped the project would help future generations of indigenous people better understand the role of their families in the region.
''The main outcome of the genealogy project is to build the capacity of Aboriginal people, who are indigenous to this region, to know and tell their own histories and be able to tangibly identify family connections,'' he said. But Mr Mortimer said there were historical records connecting the Ngambri people to Canberra, and the name of the city was derivative of his clan group.
''It's already recognised that Canberra is named after us,'' he said. He queried the Government's choice to focus the study on indigenous people.
''Why don't they do a genealogy project on German people in the area, or Italian people, or any other ethnic group?''
CORRECTION: This report initially said it was former indigenous affairs minister Joy Burch who told an Assembly committee that the Government would continue to recognise Ngunnawal people. It was actually current minister, Chris Bourke. This was a reporter's error.