Justice Hilary Penfold to retire from ACT Supreme Court
Canberra's first female resident judge, who has been described as a "trailblazer" for women lawyers, will retire after a decade on the ACT Supreme Court bench.
Attorney-General Gordon Ramsay said Justice Hilary Penfold, PSM QC would step down early next year, about 10 years after she was appointed.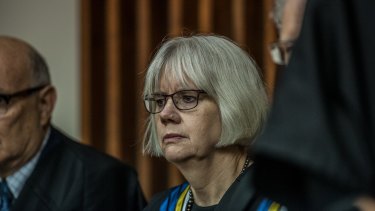 "Her Honour has made a significant contribution to the work of the court, and the wider Canberra community," Mr Ramsay said.
"Justice Penfold was the first female resident judge of the Supreme Court and is known for the rigorous standards she applies in court as well as the thoughtful judgements she delivers."
She came to the Supreme Court after spending time as secretary of the Department of Parliamentary Services, where she ran the bureaucracy at Parliament House.
Before that, she was the Commonwealth's First Parliamentary Counsel for a decade.
She drafted legislation that covered human rights, sex discrimination, forensic procedures, industrial relations, defamation, taxation and corporations law.
Justice Penfold, who was born in Dunedin, was a Commonwealth Queen's Counsel in 2001, and awarded a Public Service Medal in 2000.
Justice Penfold graduated from the Australian National University and was admitted as a barrister and solicitor in the ACT in 1977.
ACT Law Society president Sarah Avery praised Justice Penfold as a "trailblazer" for women lawyers and said it was "almost unbelievable" she had been the territory's first female resident judge in 2007.
"The legal profession has historically been male-dominated but her Honour excelled in spite of this," she said.
Ms Avery said Justice Penfold's path to the bench was "non-traditional" in that she did not first practise at a state or territory bar as a barrister.
"For that reason, her Honour's appointment was an act of great perspicacity and innovation by the then ACT Attorney-General, who recognised her Honour's innate intellectual and legal talents to ensure that the ACT had not only another person of integrity and courage on the bench, but its first woman resident judge."
Ms Avery thanked Justice Penfold for her encouragement of "all lawyers, but in particular, young lawyers" and noted her role as patron of the Women Lawyers Association of the ACT.
"The ACT Law Society thanks her Honour for her collegiality, tireless work and courtesy on the bench, and wishes her well in her retirement next year."
Mr Ramsay said the search for a new judge had already started to ensure the "timely appointment of a replacement resident judge and to support the ongoing efficient operation of the court".
"As part of the selection process, expressions of interest for appointment will be sought nationally by public notice very soon and I also will be writing to key stakeholders seeking nominations of suitably qualified candidates."
Justice Penfold's announcement follows the retirement of Justice Richard Refshauge in May.
He was replaced by Justice David Mossop, who previously held the position of associate judge.
Associate Justice Verity McWilliam balanced the gender make-up for a 50:50 split between male and female justices when she joined the bench in June.
Megan Gorrey is the Urban Affairs reporter at the Sydney Morning Herald.