Kitchen Garden: Using gin to add some local colour
A group were having lunch at the National Portrait Gallery and three of us ordered the (delicious) gin-cured salmon salad.
The gin came from The Canberra Distillery which founder Tim Reardon says is a classic London Dry, triple distilled, that contains juniper, liquorice root, orris root, coriander, cinnamon, tangelo and lemon. Their new gin contains the native, local, botanicals strawberry gum from Tarago and mountain pepperleaf from Braidwood.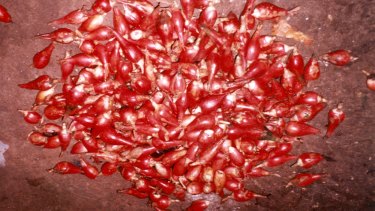 The Martini Whisperer, Phillip Jones, says for gin and lime cured salmon or trout you want the gin to influence and be present in the flavour profile of the dish, but not dominate.
With native botanicals like lemon myrtle, finger lime, peppermint gum leaf and blood limes being used in Australian gins, you can give your dish some real local colour. As well as the gins of Canberra, Phillip recommends Archie Rose (NSW), Applewood (SA), West Wind's Sabre (WA), McHenry (Tas) or Stone Pine (NSW).
My daughter and her partner, in London, make sloe gin in September/October and store the sealed bottles for three months before drinking. She also said "everyone here is into Fever Tree tonic mixers these days, too."
To drink on a hot summer's eve, Phillip said when his wife wants some non-alcohol, he mixes up a Fever Tree tonic water (available from Dan Murphy's) on ice with raspberries, plus several fresh mint leaves from their garden, then adds a few drops of grapefruit bitters. He said the Australian tonic, Capi, is worth trying too.
As a garnish for gin and tonic, beyond the standard lemon or lime, try fresh thyme from the garden, rosemary, or slices of blood orange or grapefruit to tease out the botanicals in your gin. Some ice is a must as the dilution releases the natural botanical oils in the gin, adding more flavour and softening the drink overall. If you are drinking neat, then one large ice cube should suffice.
Grains of Paradise
With my lunching companions, we looked up the origins of gin in Holland and found it was created as a medicinal liquid. An ingredient with the alluring name Grains of Paradise required more sleuthing. It was originally used in place of then more expensive black pepper.
Aframomum melegueta comes from the ginger and cardamom family and grows along the swampy West African coast. The perennial has a palm-like appearance grows to 1.5m and red, mature fruits contain numerous seeds.
Gewurzhaus herb and spice merchants (top floor of the new Monaro Mall/Canberra Centre) stock Grains of Paradise in small jars. They suggest using them with game and wild meats and from organicauthority.com ideas include adding before cooking to roasted vegetables, grilled chicken kebabs or asparagus, avocado dip and apple pie.Ten Canberrans and two Sydneysiders have now tasted a sample of the small seeds and the consensus is that they have an irresistible combination of pepper, then woodsy, citrus, leaving a hint of cardamom in the mouth.
Ian Hemphill of Herbie's Spices on the NSW Central Coast, says the 10cm long pear-shaped fruits are wild harvested by local people in West Africa who winnow the seeds and pack them for export.
Herbie's Spices online stocks Grains of Paradise in 10g packets for $15 and also includes the crushed seeds in their 'Super' Ras el Hanout mixture, a Moroccan spice blend which is available from the Ainslie IGA supermarket.
The Spice & Herb Bible 3rd edition by Ian Hemphill with recipes by Kate Hemphill (Robert Rose Inc. Toronto, Canada) says earliest records of grains of paradise date from 1214. These days we should only buy the spice whole, store in an airtight container, and the flavour will last for up to five years. Grind before adding to a dish to releases their flavour. The Hemphills have generously shared Kate's recipe from the book.
West African Beef Stew
2 tbsp vegetable oil
1 large onion, pelled and chopped
1 small hot chilli, chopped
800g beef round steak cut into cubes
2 tsp grains of paradise, roughly crushed in a pestle and mortar
2 tsp sweet paprika
1 can (400g) chopped tomatoes
half cup peanuts, roasted and roughy crushed in pestle and mortar
1 tsp butter
salt
Heat oil in a heavy-based saucepan and saute onions until transparent, about four minutes.
Add chilli, then beef, adding just a few cubes at a time so that each piece is sealed on all sides.
When all the beef has been sealed, add grains of paradise, paprika and tomatoes and stir to combine.
Bring to a simmer, reduce heat to the lowest possible and cover saucepan with lid.
Cook on low heat until meat is tender - about an hour, depending on your butcher, the size of the cubes of meat, and your stove.
Fry the peanuts with the butter, mashing them together to make a rough paste, then add them to the stew. Add salt to taste and cook a few minutes longer for flavours to amalgamate.
Accompany with mashed potatoes and a steamed leafy green, such as spinach, silverbeet or warrigal greens.
Serves 6.
Susan Parsons is a Canberra writer.