Light rail boss named as Canberra's new public transport tsar
Capital Metro Agency boss Emma Thomas will head up Canberra's new stand-alone public transport authority from July.
Transport and Municipal Services Minister Meegan Fitzharris will announce Ms Thomas' appointment as the founding director-general of the new agency on Tuesday, taking responsibility for development of the tram line and operation of ACTION buses at the start of the new financial year.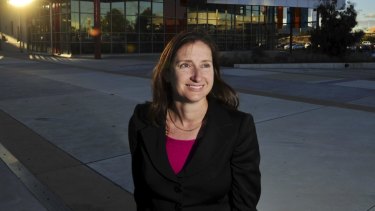 A former South Australian deputy chief executive of public transport and rail commissioner, Ms Thomas was appointed to lead the Capital Metro Agency in August 2013. Under the planned changes, the agency's 20 staff will be joined by about 30 people currently working for ACTION within the Transport and Municipal Services Directorate.
"I am excited by this unique opportunity to bring together both agencies and to improve the customer experience," she said.
"To do this, we must recognise the customer is at the heart of everything we do. I am thrilled to lead the new agency and look forward to working with the team to create smart transport choices for the people of Canberra."
Ms Thomas was recommended for the role by the territory's top bureaucrat, Head of Service Kathy Leigh earlier this year. She has previously worked for the Queensland government's Department of Transport and aviation giant Boeing.
"The reasons for the choice are Emma's background in both the private and public sectors, delivering major projects across all forms of transport," Ms Fitzharris said.
"She also knows Canberra very well and the work she has already done at Capital Metro has meant the people she has engaged with are the people who are key stakeholders for the establishment of Transport Canberra."
"The agency is established on July 1 so there is already a transition team in place which had included Emma anyway, as well as key people from TAMS and ACTION. She will remain part of that group but will take on more of a leadership role."
Ms Fitzharris said appointing the tram boss was not an indication that light rail would take precedence over buses within the new agency's operations, which will eventually provide connected timetables and ticketing across public transport modes.
"I think it signals the government's real focus is on an integrated transport system, because that's what Emma has been involved in in the past," she said.
"The benefit of that is she understands the planning, delivery and operations required for an integrated system in a city like Canberra."
Ms Fitzharris said she wanted more Canberrans to use ACTION services before the tram begins operations in 2019 or 2020.
A passenger survey will be conducted across Canberra's bus network in April, focusing on customer experience, movement around the city, complaints and opportunities for improvement.
It is not yet known if the ACTION brand, dating back to the 1970s, will be retired by the new agency or what ticketing system will be used in Canberra when tram services begin.
"Certainly from the passenger's point of view there will be no change from July 1," Ms Fitzharris said.
"We will be working through a number of issues in the lead up to Capital Metro services getting under way so that change in moving around the city is integrated."
Last year a review of ACTION by transport consultants MRCagney found the city's buses recorded an operating loss of $11 million in 2014 and received about $7.20 in public funding a passenger, twice what other similar public and private bus operations received.
The report showed plunging passenger satisfaction and slow falls in patronage while on-time running of bus services has been well below the target set by the ACT government.
Tom McIlroy is a political reporter for The Australian Financial Review in the federal press gallery at Parliament House.