National Archives move to $64m Mitchell facility will be its last until 2030
Arguably the largest movement of papers in Canberra's history is set to begin in two weeks, and it has nothing to do with The Canberra Times delivery trucks.
An eight-month move by The National Archives of 90 kilometres of paper records plus kilometres more of audiovisual history to the new state-of-the-art facility in Mitchell begins on October 30.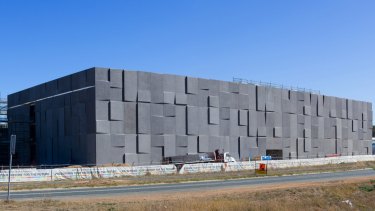 National Archives director-general David Fricker said the move into the new privately-owned facility – which cost $64 million to build – was the largest in the Archives' history and should be the last of its kind.
"It should give us enough new space up until the year 2030," he said.
"The infrastructure we build after that should really be a digital archive."
Public services provided by the Archives would be limited as trucks moved items from the Greenway and nearby Mitchell site into what is formally known as the Archives' Preservation Facility.
The 18,000 square-metre facility has a conservation laboratory, digital archives for classified and unclassified records, cold storage areas and 114 kilometres of shelving.
Mr Fricker said the large storage building had a "very tight construction" to ensure temperature and humidity variations were minimised, and was connected via an atrium to office facilities which could accommodate up to 150 staff.
It almost triples the amount of cold storage available for preserving significant Australian items, including photographs and interviews. Mr Fricker said a lack of space was the main factor which led to the move, but the quality of facilities for storing the continually expanding $1.46 billion collection was also important.
"The buildings we were in were getting dated and tired and lacked the ability to look after those records as they demand," he said.
The new facility was built, owned and will be maintained by the private Doma Group. The Commonwealth agency has leased it for 30 years.
"We were given $33 million over four years to project manage and move in, but all capital costs and ongoing running costs are taken care of by the landlord," he said.
The Archives has apologised in advance, acknowledging access to the Canberra-based collection would be cut back until the move and final construction and fit-out of the new site was completed in June.
"But we are hoping the public will forgive us, knowing we are caring for these invaluable records which represent the history of Australia," Mr Fricker said.
The Archives' digital collection, including more than 400,000 photographs and 5.5 million passenger arrival records, would continue to be available, as would "high-use" records in the Canberra Reading Room.
Reporter at The Canberra Times