National Police Remembrance Day
Close to 300 officers, special guests, families and members of the public gathered along the shore of Lake Burley Griffin in Canberra to remember the hundreds of Australian police officers killed on duty as part of National Police Remembrance Day on Monday.
A distant Parliament House loomed over the ceremony at the National Police Memorial as a pertinent reminder of the daily risks burdened by the force amid ramped up security, terror raids and the stabbing of two police officers by a terrorism suspect less than a week earlier.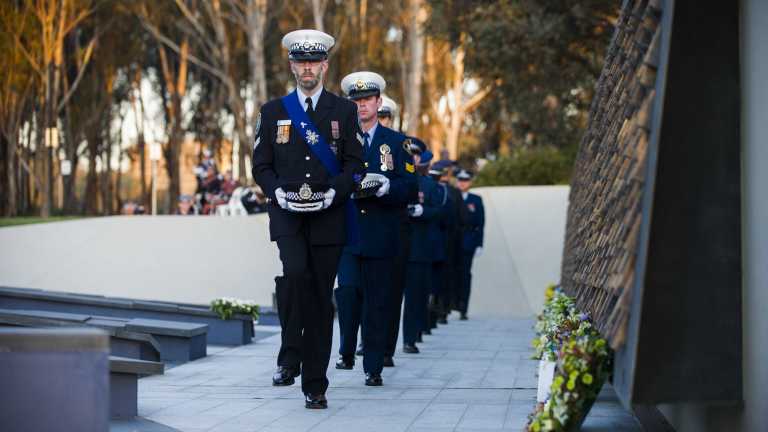 It was a timely reminder for Governor-General Sir Peter Cosgrove to reflect on the dedication of the men and women who don the navy blue across the country to a "task that is never finished".
He thanked officers for their bravery, determination and honourable conduct "in light of recent events and ongoing challenges to keep us all safe".
"This has been a particular reminder of the onward dedication and professionalism of the magnificent women and men of the federal and state police forces," he said.
The Governor-General, a former Chief of the Defence Force, reflected on the role of police in allowing an Australian way of life free from "those who seek to do us harm".
"You dedicate your lives to ensure fellow Australians live safely," he said.
"I'm here today as Governor-General to say thank you."
The remembrance day service commemorated the 757 officers killed in Australia and the Southwest Pacific since 1803, including the retrospective installation of a plaque for Victoria Police senior constable David Hobden,
Senior constable Hobden sustained severe injuries in a police motorcycle accident in 1990 and died in 2011.
No Australian police officers have been killed this year.
Illuminated touchstones sprawled across the memorial drew attention to each fallen officer as the sun set over proceedings and senior constable Hobden's family laid one of many wreaths at the foot of the wall.
Attorney-General George Brandis, Minister for Justice Michael Keenan and Vice Chief of the Defence Force Ray Griggs were among special guests at the ceremony.
Australian Federal Police acting commissioner Andrew Colvin especially thanked "the families of the officers whose names appear on the wall behind me" for their attendance.
He described the ceremony as an opportunity to reflect on both the sacrifices of fallen officers and the day-to-day responsibilities carried by police across the country, often at times of danger.
"From the streets of major cities to many remote policing outposts...to roles performed internationally, police officers are never confident of what is possible," he said.
"[They] provide us the freedoms we all enjoy."