Pullet surprise as goose gets top price
When is a goose not just a goose? When someone is willing to pay $840 for it, for starters.
Touted as the biggest of its kind in the southern hemisphere, the 2012 Royal Canberra National Poultry Show closed yesterday afternoon, with an auction of more than 560 birds.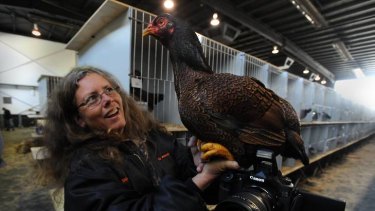 The most expensive lot on the day was a Toulouse goose. But all types of poultry, from bantam hens to turkeys, went under the hammer at Exhibition Park. Royal National Capital Agricultural Society chief executive Garry Ashby said about 90 per cent of the birds at the auction had been sold.
''It's breeders trying to improve their gene pools and buying from other breeders, and people wanting to start and breed up various animals,'' he said.
Toowoomba poultry breeder Lisa Gardner was heading back to Queensland yesterday afternoon, the owner of three new birds she bought at auction - a Sussex cockerel, a silkie cockerel and a silkie hen. Ms Gardner paid $250, $320 and $220 respectively for the poultry, which she will introduce to her relatively small brood of around 150 Sussex and silkie birds. ''When you get a dog or a horse. you pay good money for that, and if it's a breeding bird it's worth it,'' she said.
Ms Garner travelled to Canberra with the Darling Downs Pigeon and Poultry Breeding Club, and entrusted her new birds to fellow club members who had driven to the capital, while she caught a flight out.
''I breed for perfection,'' she said.
Entrants came from as far as Augusta in Western Australia, Alice Springs, Cairns and Tasmania.
Mr Ashby said more than 5000 people had been through the gates over the weekend, a number far greater than he had anticipated, with about 1500 exhibitors showing more than 5000 birds.
He said some locals had attended hoping to purchase a pet at auction, but had walked away empty-handed as bidders needed to be registered before the event.