Record crowds at this year's Enlighten Festival
More than 131,500 people attended Canberra's Enlighten Festival in 2014, a record crowd for the event's fourth year.
Included in the 14.37 per cent increase in total attendance were an estimated 5,400 interstate and international visitors for the nine-night festival in February and March.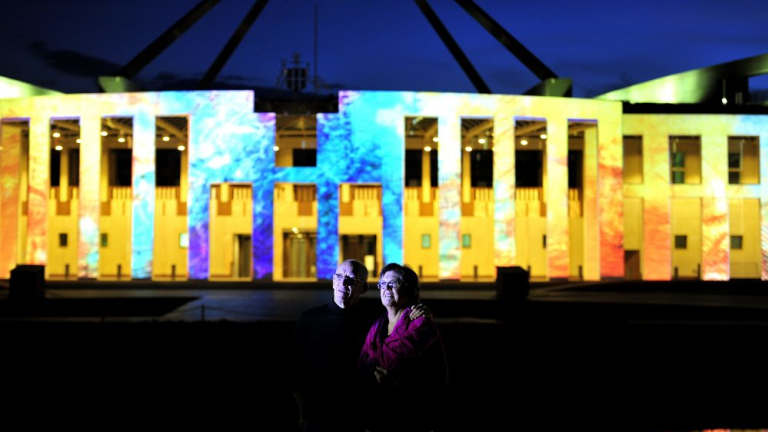 Figures set to be released by the ACT government on Monday show Enlighten contributed as much as $2.1 million to the ACT's gross territory product for the year. The total attendance was 131,556 people during the festival.
Canberra landmarks including Parliament House, Questacon, the National Portrait Gallery, the National Library of Australia, the National Gallery of Australia and Old Parliament House were colourfully lit as part of the event, and 12 cultural institutions stayed open after dark for live performances, tours, exhibitions and concerts.
A special entertainment hub established in the Parliamentary Triangle hosted free activities during both weekends of the festival, including a performance by US soul singer Charles Bradley.
Tourism and Events Minister Andrew Barr said visitors from interstate and overseas stayed an average of 2.87 nights in Canberra in the period and spent an average of $188.75 each day.
"These are great results and, after just four years, it appears Enlighten is truly cementing its position as an iconic Canberra event," Mr Barr said.
"This year we adopted a research methodology used by evaluation company Repucom Australia including a post-event online survey. This has allowed a deeper understanding of the economic value of the event to the territory."
A report into the event showed two-thirds of attendees were highly satisfied with the event and 91 per cent said they were likely to return again in 2015.
As many as 88 per cent of respondents said they would recommend visiting Canberra to their family and friends and 63 per cent said that the festival was better than they had expected.
The report stressed a change in research methodology made statistics difficult to compare to previous years. Staff conducted face-to-face surveys with visitors to the festival as well as a post-event online survey about the experience and length of stay.
The report said attendance figures for 2013 might also have fluctuated due to Enlighten's incorporation into the Centenary of Canberra events, when ACT residents were encouraged to spend the long weekend joining public events instead of visiting the New South Wales south coast and other locations.
All attendance categories increased in 2014, with 81,300 people visiting outdoor entertainment precincts, 41,927 people visiting non-ticketed free events and 7,491 attending paid ticketed events.
To promote Enlighten, Events ACT used postcode data, sales and demographic information to market to audiences in Sydney and regional NSW. Key interstate audiences were those within a 3- to 4-hour drive from Canberra, with a secondary focus on the rest of Australia, predominantly the eastern seaboard.
Mr Barr said planning for Enlighten's 2015 instalment was already under way.