Red Cross takes over advocacy for at-risk Canberra families
The Australian Red Cross is taking over advocacy support services for high-risk Canberra families as part of the ACT government's changes to out of home care.
Children and Young People Minister Mick Gentleman will announce on Tuesday the Red Cross will assist families dealing with child protection services, the first external tender as part of the Step Up for Our Kids program of reforms.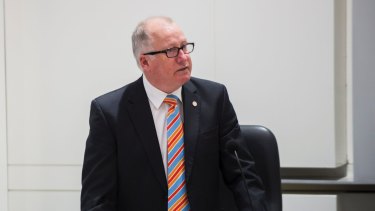 The organisation will help through providing families with improved support and the development of an independent advocacy support service, linked through a central phone line and appointment service.
"I am pleased to announce that the highly-respected Australian Red Cross has won the tender to provide this service," Mr Gentleman said.
"From October, services will be provided to birth families of children and young people at risk of, or who have entered, the care system when they are dealing with child protection services."
Families will be able to choose from either the Red Cross site in Garran or Gungahlin Child and Family Centre. The service will provides opportunities for the resolution of conflicts through innovative alternatives to litigation.
"A Step Up for Our Kids is this government's $16 million investment, on top of additional funding in the future of our most vulnerable children and young people," Mr Gentleman said.
"It is about breaking the intergenerational cycle of disadvantage and keeping children safe at home. This new advocacy support service is an essential part of that commitment and will provide support, information and advice empowering birth families to effectively, and in an informed way, participate in the child protection process.
"Most importantly, it will help them feel heard," Mr Gentleman said.
The Step Up for Our Kids scheme, first announced in January, is seeing a boost in spending on care for children living out of home of $16 million as part of a five-year strategy.
Designed to break intergenerational disadvantage, the plan involves non-profit agencies taking over some government co-ordination of children living in care, with priority given to providing children with one foster family throughout their childhood.
The strategy aims to return children to their parents as soon as possible, or seek to finalise secure and permanent foster care or adoption options where a return cannot be achieved.
Tom McIlroy is a political reporter for the Financial Review in the federal press gallery at Parliament House.