It's 15 years since the January 2003 bushfires and one of its hallmarks, apart from the so obvious devastation, was the generosity shown by the community to those who had lost loved ones and homes.
Now some of the recipients of that generosity are giving it back.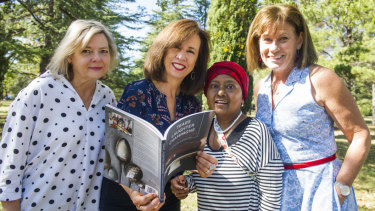 The Singed Sisters were a group of women, mostly in Weston Creek, who lost their homes in the bushfires and supported each other through the recovery process.
Earlier this year, they published a beautiful cookbook, Tears, Laughter, Champagne: A story of friendship forged through fire and food with recipes from the Singed Sisters, which included the recipes that buoyed them in the early days, sustained them during the rebuilding and added to the celebrations as they returned to their community in rebuilt homes.
The cookbook had always been a way "to give back to the Canberra community that had helped bushfire victims in so many ways in the aftermath of the fires''.
The cookbook's publisher, Karen Downing, an historian who lost her home in Duffy in the fires, on Friday  presented Frances Crimmins, executive director of the YWCA in Canberra, with a cheque for $4000 from the profits of book sales to date.
That added to an initial donation of $865 generated from the crowdfunding campaign that launched the book, bringing the Singed Sisters total donation to almost $5000.
"We are so proud that our donation will go towards the YWCA's programs for homeless women in Canberra. It's also fitting this money is helping women getting back on their feet and hopefully back into a home. A journey the Singed Sisters can certainly identify with," Dr Downing.
Ms Crimmins says the donation will support the YWCA's work in addressing the chronic shortage of affordable housing options for women in Canberra, particularly elderly women, who are a rapidly increasing segment of those experiencing housing insecurity and homelessness.
"In the ACT in 2016-17, women accounted for more than half of those people accessing specialist homelessness services, many of them escaping domestic and family violence,'' she said.
"We welcome this generous support to continue our long history of providing housing support to women and their families through transitional housing, affordable housing and supportive tenancy services.''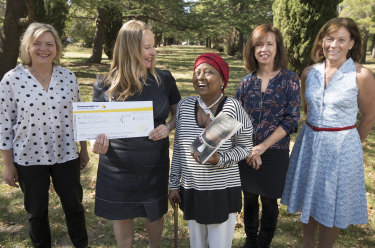 Tears, Laughter, Champagne: A story of friendship forged through fire and food by Karen Downing, with photos by Grace Costa, is available from selected bookshops in Canberra and online at Obiter Publishing www.obiterpublishing.com.au.
Megan Doherty is a reporter for The Canberra Times