Temporary fence, traffic delays coming to Parliament House in security upgrade
Construction of a new 2.6 metre security barrier across the lawns at Parliament House will involve a temporary fence and traffic delays during construction, Senate President Stephen Parry said on Monday.
Senator Parry told Senate budget estimates hearings work on the permanent fence was already under way and access to grass across the front of the building would be completely blocked during the construction period.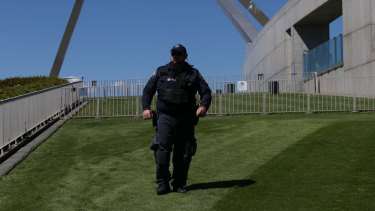 After construction equipment was installed at Parliament last week, Senator Parry again refused to outline the cost or final design of the fence, citing national security concerns. He said Parliament would remain one of the most open and accessible buildings in the world.
Temporary security fencing will be in place until the permanent steel fence is completed, with architects and the Department of Parliamentary Services seeking to minimise the visual impact while maximising access for members of the public.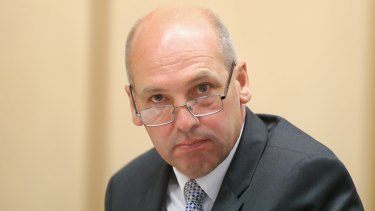 Amid criticism of the secrecy around the plans, Senator Parry said outlining the cost of the fence would mean materials being used in the construction and other aspects of the planned $126.7 million in security upgrades could be estimated.
"It would open up the opportunity for people to work out individual pricing components for these elements," he said.
"Once the works have been completed and we're not highlighting vulnerability... I see no reason why these costs can't be produced, certainly to the committee in a private capacity, but it may be something that we can place on record," he said.
"The security enhancements balance the requirements to maintain the security of the building and its occupants with the continued open access to the many visitors who come to Parliament House each year."
Plans for new 2.6 metre fences and new fortifications around the building were rushed through Parliament as politicians prepared to leave Canberra for Christmas last year, but the exact location, design and cost are yet to be made public.
The fence is expected to be painted to match existing metal work with its design avoiding horizontal elements intruders could use to scale the barriers.
Speaker Tony Smith is expected to make further comments about the fence on Monday.
"All security enhancements are the result of advice of our security agencies and based on many months of consideration and preparation," Senator Parry said.
"The presiding officers regularly receive advice on the security of Parliament House from many sources, particularly the Australian Federal Police, ASIO and the Attorney-General's Department.
Tom McIlroy is a political reporter for the Financial Review in the federal press gallery at Parliament House.