'The accidental chief minister': Trevor Kaine 25 years on
It was a warm and wet June in 1991 when a young Gary Humphries stormed into the office of ACT Chief Minister Trevor Kaine, who had just committed the fatal error that would bring down his government.
In one move, 18 months of government ended in a bang and Kaine in his 12 remaining years at the assembly would never again reach the top job.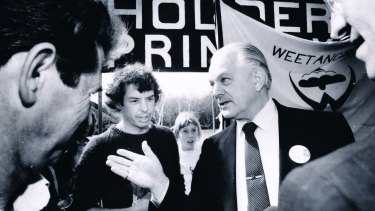 It had begun so well – 25 years ago this week, in 1989, Trevor Thomas Kaine became Canberra's first Liberal chief minister after the collapse of Rosemary Follett's Labor government.
Mr Kaine was born in Tasmania in 1928, the son of a multi-talented father.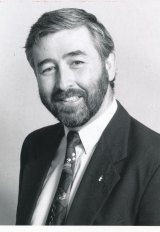 "He did all sorts of things," Trevor's third wife Sandy Kaine said. "His family had farms, wood mills, his father looked after steam engines and factories. I think he also did some wood chopping."
A member of the air force , Mr Kaine first came to the ACT in the early 1950s, like so many new Canberrans to join the public service, specifically a department in the Australian military.
In 1975 he joined the ACT House of Assembly, the pre-cursor to the Legislative Assembly before self-government.
"He always thought he could give to the community and he wanted to what he could do for the community," Sandy said. "His philosophy was he was there to do a job, to help the people, not help himself."
When the ACT was granted self-government, Mr Kaine was elected as Liberal leader and gained four seats at that first chaotic local election in 1989.
The chief ministership should have been within Mr Kaine's grasp after the 1989 vote (Labor won only one more seat) but then-deputy leader Gary Humphries said he seemed oddly reluctant.
"He wanted to do a deal where he would be opposition leader to Rosemary Follett's chief minister," Mr Humphries said. "So any discussion with the Residents Rally that might have upset the apple cart was viewed with concern.
"Hours before the first meeting of the assembly Trevor Kaine walked out on a meeting with the Rally."
Instead Labor's Rosemary Follett formed the ACT's first government but managed to hold the assembly together for less than a year before her government fell and the Liberals, under Mr Kaine, formed a coalition with Bernard Collaery.
"It was a middle of the road liberal alliance government," Mr Collaery said. "In many respects Jon Stanhope and Katy Gallagher have learnt the need to have middle of road governments [from us]."
Mr Collaery and Mr Humphries said the Kaine government focused on bringing the complex ACT budget under control, cutting costs, closing a number of ACT schools and shutting the Royal Canberra Hospital.
"We were upsetting people with all the things we tried to change and it was to be a number of years until the territory got into an effective surplus ... but the groundwork was being laid in that first term of the assembly," Humphries said.
But Mrs Follett said it was her second government from 1991 that got the territory at triple AAA credit rating. "I think that approach in the early days was harsh, because the territory's budget had only just really been formed ... I think it was always going to be a difficult task," she said.
Some of these harsh decisions, particularly involving the closure of up to 20 Canberra schools, were controversial in the community and led to the eventual collapse of the Kaine government due to disagreements between Mr Kaine and Mr Collaery.
It came to a head in May 1991 when an argument about the school closures between to two party leaders led Kaine to ejected the Resident's Rally from the government.
His deputy, Mr Humphries, didn't understand his reasoning.
"He didn't talk to me about this at all," Mr Humphries said. "When I saw him I said, 'Trevor, you realise Bernard holds three seats in our government. He'll take them and bring down the government.
"And he just said Bernard was shitting him off and he wasn't going to put up with this nonsense anymore. And I thought, 'OK, obviously you haven't thought about it very much!'"
Reflecting on the end of the alliance government, Mr Collaery said he didn't feel the Kaine government had needed to end so abruptly.
"Trevor had an accountant's mind," he said. "He was a good administrator but he had a short fuse and he brought the government down, I thought unnecessarily as there was a way out of the school closure imbrolgio."
"It was entirely avoidable," MrHumphries said. "It arose simply out of one of Trevor's famous brain snaps. Trevor was a sort of calm, avuncular figure most of the time, but he did have a nasty temper and he could really go off the end big time."
Mr Kaine stayed in the ACT Legislative Assembly until 2001 when he retired at the age of 73 – he died seven years later in 2008 after a long illness and is the only ACT chief minister to date to have passed away.
"Trevor never thought he was an important person," Mrs Kaine said. "He never thought anybody should recognise him, because to him he was doing a job. He wasn't there for any reason other than to do a job.
"He was the most amazing person and for me, there's no man who could ever come up to his standard. He was just so wonderful – kind, generous, great sense of humour, a great companion."
Ben Westcott is a reporter at The Canberra Times.