The Collectorium is Robert and Ruth Parker's antique showcase
Ruth and Robert Parker wanted to open an antique shop with a difference. And they wanted somewhere to house their collection of furniture, clocks, jewellery, watches - and erotic art.
The result is the Collectorium on Newcastle, a Fyshwick shop filled with polished silver, grandfather clocks, and pieces of sensual art by great Australian artists, such as Brett Whiteley and Robert Larter.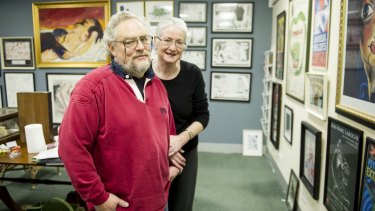 Robert Parker has a long pedigree when it comes to collecting interesting pieces. "My parents and grandparents were antique dealers. It's probably something like a birth defect," he said.
He grew up surrounded by antique pieces and at first lamented that his parents had so much "old stuff, not like other people we visited where there [were] modern things".
Mr Parker turned his hand to other vocations after leaving school, including optical instruments, but "couldn't resist the pull" of the family trade and returned to collecting and selling antiques.
Gleaming silver tea sets from the 1800s sit alongside modern pieces from Ernst Fries, an artist who started in silversmithing but is now known for his sculpture, while the front foyer is home to two antique clocks from the 1700s and 1800s.
"Over the years I came to appreciate old things more so than contemporary. To me, if it's ultra modern, very often it is abstract or modern just for the sake of being different without any merit and you don't find that in antiques," he said.
But Mrs Parker said she leaned towards the modern and wanted people to be able to find collectable items that went right up to the 21st century.
Friend and colleague Robbie Swan helped set up the Australian Sex Party and worked with the adult industry lobby group, Eros. He's also helped set up the erotic art collection at the Collectorium.
"Ruth and Robert wanted to do something different to the usual, they wanted to break the traditional boundaries of an antique shop," he said.
The collection, which is kept in a separate adults-only room, features original movie posters for Lolita, an erotic drawing by Whiteley and posters from art exhibitions that explore sexuality.
"I think it creates a whole new feel about antiques. They're pushing the boundaries of collectables in a way that people haven't really done before. There's a lot of great artists like Salvatore Zofrea and Brett Whiteley and popular artists like Geoff Pryor."
Former ACT senator Gary Humphries will launch the Collectorium on Newcastle on Friday evening. The store opens on Saturday at 151 Newcastle Street.