Theatre review: Anthology by Pip Buining and Louise Morris is not to be missed
Anthology.
Created and produced by Pip Buining and Louise Morris.
Stirling Park. Corner of Empire Circuit and Forster Street. Tickets $30/$25.
On November 29, December 3 to 6 at 6pm.
Bookings: anthology.net.au.

The old sign stands, battered and rusted and with letters missing from its name. From far and wide, the people came to make their home in Canberra's Westlake and build a nation's capital in the heart of the Australian bush. From 1922 until 1965, people lived and loved, worked and played and battled hardships on the land now known as Stirling Park. Anthology is their story – a site-specific theatrical installation piece, created and produced by Pip Buining and Louise Morris from the anecdotes, writings and accounts of those who lived there and especially former resident Ann Gugler nee Austin, delightfully played as a young child by Caroline O'Brien.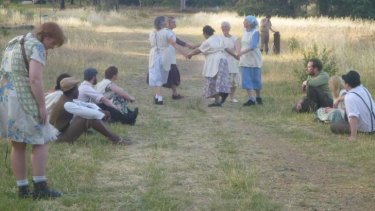 Audiences are taken on a journey through the vanished suburb by present day property developer Robert Rolland (Joe Woodward), who espouses with convincing guile the glories of his luxurious Wrinkleworts apartments. Woodward, assisted by his daughter, Rhonda (Katharine O'Bryan) promises a phoenix from the ashes, a development that will again restore the community amenities and spirit of Canberra's temporary home for those who came to build Walter Burley Griffin's dream.
As we walk through the bush past sites where the 700 inhabitants had their homes and community venues, members of the Canberra Academy of Dramatic Art's Ensemble under the thoughtful direction of Clare Moss create vignettes of life in Westlake. Beneath the trees and under a clear, blue sky, members of the senior dance ensemble, Gold, choreographed by Liz Lea, Philip Piggin and Jane Ingall capture the spirit of a strong community, now dispossessed and without a building in sight to teach us the true meaning of "meeting place".
We sit in a circle to hear the late Ngunnawal Elder, Don Bell, relate the story of the Bunyip, and, finally, where the community hall once stood, Ann reminds us of the true spirit of a close and equal community. O'Brien's final song, accompanied by The Cashews (Alison Procter and Pete Lyons with Evan Buckley) is a powerful and moving acknowledgement of personal and community loss. The final scene in the community hall, surrounded by photos of the people who made Westlake their home, compels us to reflect, through the laughter and the tears, on our own notion of home.
Buining and Morris have revived a tradition that harks back to the inspiring open-air events and installations of Splinters Theatre under the brilliant direction of the late David Branson. This ambitious and skilfully realised event will fascinate, educate and move you to reflect on where you live and who you are. Don't miss it.