Where are the National Gallery of Australia's beloved pears going?
Those pears outside the front of the National Gallery of Australia in Canberra are perhaps the most beloved item in its collection.
Known more formally as Pear—version number 2 by George Baldessin, the seven pears have held pride of place in the gallery's forecourt.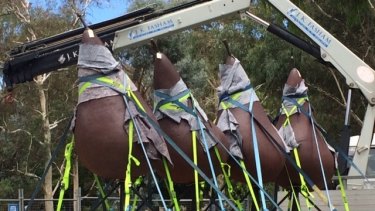 So to see them on the back of a truck on Wednesday was a little heart-stopping.
The pears are being moved. But not from the gallery, a spokeswoman confirmed.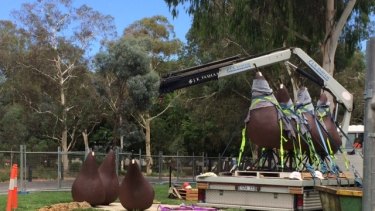 It seems the pears are being relocated to "not very far" from their present site to make way for a "new and exciting" sculpture to be unveiled soon by the gallery.
The as yet unnamed sculpture is "gravity-defying" and by an "outstanding American artist".
The mysterious new sculpture is on a long-term, temporary loan to the gallery.
A fresh base for the new sculpture was being prepared on Wednesday. The exact location for the pears has yet to be disclosed by the gallery.
Watch this space.
Megan Doherty is a reporter for The Canberra Times