ACT Labor's controversial MoU with Unions ACT to be written into law
A controversial deal that unions say stops workers being ripped off with public money will be written into law within the next year, Chief Minister Andrew Barr has revealed.
In his speech to Saturday's ACT Labor conference, Mr Barr said the government would would establish a "local jobs code" to ensure "worker safety, fair pay and conditions on public projects" within the next 12 months.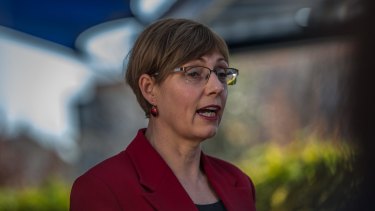 The reform was foreshadowed at last year's conference and will formalise an agreement the ACT government has with Unions ACT, which allows the peak body to vet companies vying for government contracts for goods and services.
Workplace relations minister Rachel Stephen-Smith told the conference there had not been as much progress on the jobs code as she would have liked, but thanked Unions ACT and its affiliated unions the CPSU, CFMEU and United Voice for helping to shape it.
"The package will include legislative, regulatory and administrative changes to ensure the government only awards contracts to companies that meet only the highest ethical and labour standards," Ms Stephen-Smith said.
"The unions collaboration in this process has served to reinforce yet again their dedication and commitment to delivering better outcomes for working people and how important it is that governments and unions work together to achieve those aims."
Both Unions ACT and the government have previously said the arrangement - in which the government provides Unions ACT with a list of companies which have tendered for a job - ensured companies which had breached work safety laws or had been found to have treated their workers unfairly did not receive taxpayer-funded work.
But federal employment minister Michaelia Cash last year criticised the deal as a "veto" right.
"The ACT government has effectively outsourced core business to Unions ACT," Senator Cash told the ABC.
Canberra Liberals industrial relations spokesman Andrew Wall said they would never support the code.
"A decision like this would enshrine in legislation the undue influence that Unions ACT already has over the ACT government," Mr Wall said.
"ACT Labor is totally beholden to the union movement. Serious questions need to be answered on who is really in control of the ACT government's policy agenda."
But Ms Stephen-Smith told Fairfax Media to jobs code would "simplify the procurement process" and "reduce duplication by establishing standard contract terms.
"It will also seek to create an efficient, clear and transparent governance regime for resolution of disputes related to government procurement, as well as improving the way performance is monitored," she said.
"Although the ACT government has limited powers over workplace rights, one thing they can do is ensure that no rates payers funds goes towards law-breaking companies that commit wage-theft," Mr White said.
"This would benefit workers, rate-payers and ensure that local businesses who do the right thing don't compete with dodgy companies."
Katie Burgess is a reporter for the Canberra Times, covering ACT politics.