Canberra's 'most significant' art festival Art, Not Apart takes over New Acton, Westside
Two hundred artists, 24 sites, six hours.
It's the formula that make's Art, Not Apart Canberra's "most significant" art festival, its producer David Caffery says.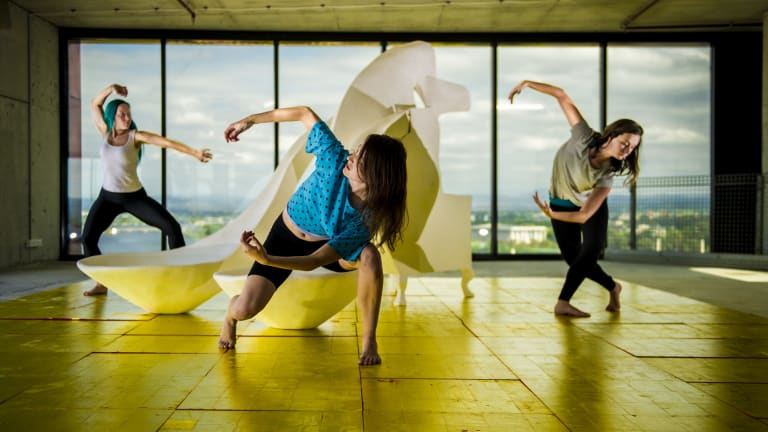 From a "fascinating" 'death café', where patrons tackle the taboo topic head on, to a beach party and paddleboat race, events at the festival taking over New Acton, West Basin beach, and new pop-up container village Westside on Saturday will be diverse.
Visitors can expect art installations, performances, "strange interventions" and dancers infiltrating everything as they make their way along an "art walk" connecting the venues.
"I want to demonstrate to people not so well-versed in contemporary art that it's more than just visual art nowadays," Caffery said.
"As the name suggests, Art, Not Apart doesn't have any boundaries of who it's trying to attract.
"We've got classical music for the more mature audiences, street art for the younger audiences, fun party music for the less-artistically minded, and strong conceptual conversations for the people really into their art."
One of the festival's highlights will be Mental - an interactive art exhibition overlooking Canberra from the concrete shell of an unfinished penthouse on the 16th floor of New Acton's south tower featuring sculpture, performance and digital art.
A panel discussion on the relevance of art is "must-see" for those in the industry, while a great debate on a similar topic promises a "comical approach with serious people".
Canberra's new "venue for the people" Westside will feature experimental collaborations from 60 artists including street art, a sculpture exhibition from the ANU school of art, locally-made electronic music and bars with views over Canberra.
Caffery admits some of the events may be confronting for visitors like the "fascinating" death café downstairs from accompanying work I Remember You where multidisciplinary artist Hayley West invites the audience to engage with her one-on-one before lying down on a cooling death bed in her split-level apartment.
"Hayley West is using performance and conversation to make people think about their own lives by questioning what they'd remember when they died," Caffery said.
"Some people love it and some people couldn't stand it, and I think that's great."
Caffery said the "wonderful audience numbers" of previous festivals showed Canberrans were open to the festival's concept.
"We're trying not to copy any other cities or festivals," he said.
"We've listened to what artists wanted to present and made the festival around that using iconic Canberra venues like the lake, like Westside, like New Acton."
While most artists featured were from Canberra, Caffery said there was also a "good amount" of interstate influence and an international DJ for the after-party.
Art, Not Apart will takeover New Acton on Saturday March 14 from 1pm to and continue with after-parties. All performances and installations are free except the French Film Festival. Visit artnotapart.com for more information.
Clare Colley is Head of Audience Engagement at The Australian Financial Review.