Meet the ACT fire spotters keeping Canberra safe from bush blazes this summer
With an office like Amelia Keyworth's it would be easy to waste the day staring out the window.
But the ACT Parks and Conservation fire management officer says there is much more to her job than taking in the stunning view.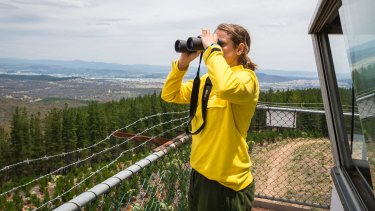 Each shift Ms Keyworth clambers up a ladder and into one of the ACT's four fire lookout towers, where she plays a vital role preventing the spread of bushfires within the territory.
"A typical day would be a six hour shift but we could work for 10 hours on a day when the fire danger is high," she said.
"If something kicks off we are doing things like communicating with other towers, monitoring for wind changes and looking out for the fire."
The ACT's four fire towers are located at One Tree Hill in the north, Kowen Forest in the east, Mount Tennent in the south and at Coree in the west.
Once a blaze has been spotted the four towers work together to pinpoint its exact location, as well as communicating with emergency services to help coordinate their response.
Fire management officer Dagmar Schade said working in the towers was a natural fit for someone like her who loved the outdoors, although it was not exactly relaxing work.
In addition to their lookout roles, each tower radioed in a comprehensive report on the weather and fire conditions every hour, she added.
"You do have to keep a very keen eye on your surroundings up here," she said.
"We do get rotated around and we get to work in different towers."
The ACT's fire spotters will be especially busy in coming days, with a heatwave predicted to bring temperatures as high as 39 degrees to the capital.
With preparations for a scorching summer in full swing, the United Firefighters Union has warned of a chronic shortage of firefighters in the territory.
Union secretary Greg McConville said recent government policy changes meant the ACT effectively had 34 less firefighters than it was funded to provide.
"The message for the ACT is clear, now is absolutely not the time to be reducing firefighter resourcing," he said.
"Indeed, firefighting agencies across Australia are heading in the opposite direction, mobilising crews and sending them to high risk locations before bush fires even start. In Canberra we're doing the opposite."
Steven Trask is a reporter for The Canberra Times